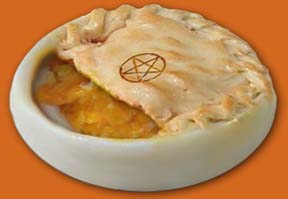 "Aunt Larceny's Peach Gobble" is something of a fond family legend at Contrary Corners, recounted at regular intervals with a wink and a twinkle in the eye, even though the aunt in question was actually from somebody else's family, and most likely (or at least hopefully) not larcenous. When Isadora was but a young girl, even then a fanatical recipe-collector, she often pored over her maternal grandmother's many cookbooks at the family farm. Isadora's little brother joined in on one occasion, when just learning to read, and the above title is his amusingly creative rendering of a recipe from a local church cookbook: "Aunt Laura's Peach Cobbler". Though this dish does indeed deserve to be gobbled (and the recipe will be appearing here soon, along with other recipes from Isadora, Lykaina, and others), the burning question remains: What was such a very little boy doing knowing the word "larceny", anyway??? ;-)
Recipes
Lykaina's Magically Disappearing Peanut Butter Cookies

Ingredients:
½ C. sugar
½ C. packed brown sugar
½ C. peanut butter
½ C. butter
1 egg
1¼ C. flour
¾ tsp. baking soda
½ tsp. baking powder
¼ tsp. salt

6 cubes chocolate candy coating
1 Tbsp. shortening

Directions: Mix sugars, peanut butter, shortening, butter and egg. Stir in remaining ingredients. Cover and refrigerate for 3 hours. Heat oven to 375ºF. Shape dough into 1¼" balls. Place 3" apart on a cookie sheet. Bake until light brown, about 9 minutes. Cool 2 minutes before removing from the cookie sheet.

Melt chocolate candy coating and shortening together in the microwave (or in a double boiler), stirring at 1 minute intervals until smooth. Dip half the completely cooled cookie in the melted chocolate and let harden on waxed paper or foil.
More to come!
Lost in the Lady's Labyrinthine Lair? Visit the Site Map!
©2002-2012 Photos and graphics are the property of Lady Isadora and may not be used without her permission. All Rights Reserved. Site by Unicorn Design.