Musings, Meanderings, & Miscellaneous Madcap Mayhem...
Peter Pan's Shadow • Cleopatra's Coloring-Book
"Aunt Larceny's Peach Gobble" & Other Recipes
Holy Hera's High Heels!™ • Ask Auntie Abracadabra™
"The Pen is a Magic Wand"
words and music by Lady Isadora, from Priestess of the Pentacle
©1990, 2010, Dance of Life Productions (ASCAP)
In some garret sits a scribbler
She is burning the midnight oil
She's got stacks and stacks of bills to pay
She's got to keep that pot a-boil
But she is smiling as she's scribbling
There's a fire that lights her eye
She's engaged in her sacred office
"Publish or perish!" is her cry
By day she's on a timecard
And she works in a library*
She's got books to the right and left of her
Just as far as the eye can see
She just can't keep away!

As I child I was fascinated
By all this written wizardry
Meanwhile I read every Little Witch Girl book
I could find in the library
Later on I kept good company
With Jo March and Nancy Drew
Anne of Green Gables and Scarlett O'Hara
And Jane Eyre to name a motley few
And I vowed some day I'd rival them
With the stories I'd write myself
So I left a few empty spaces
For my own on my bookshelf
On my bookshelf

So here's to you dear Brontë sisters
Goddess bless you, Louisa May
What would you make of these bodice-ripper plots
The gals are churning out today?
Oh well! The dance of pen on paper
Is a magical dance indeed
And to see one's name in print at last
Brings on religious ecstacy
To keep a reader turning pages
Is like casting a good spell
But whether masterpiece or potboiler
You know sometimes it's hard to tell

But tonight I'll work some magic
With the potion in my inkstand
Tonight I'll light a sacred candle
At the altar of St. George Sand**
The pen is a magic wand!
* A former day-job of Isadora's
** Pen name of Baronesse Dudevant, née Aurore Dupin, 19th-century French novelist infamous for smoking cigars and wearing men's clothing when it suited her; for her passionate, feministic books, letters, and plays; and for her numerous romantic liaisons and/or friendships with Chopin, Liszt, Musset, Delacroix, Flaubert, and other artistic luminaries of the day.
Back to Lyrics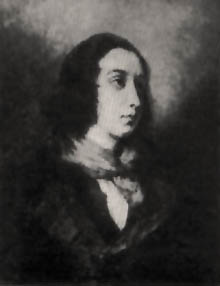 "St." George Sand
by Eugene Delacroix
Isadora's favorite girlhood book, by

"Invincible Louisa," the real Jo March.

If a Jewish girl can be a patron "saint" to a Witch,

Anne Frank (may she rest in peace and reincarnate

in glory) is just that to Isadora.
Lost in the Lady's Labyrinthine Lair? Visit the Site Map!
©2002-2012 Photos and graphics are the property of Lady Isadora and may not be used without her permission. All Rights Reserved. Site by Unicorn Design.