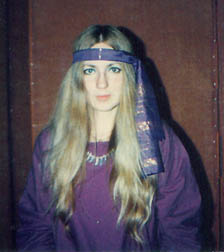 Ever the Iowa contrarian, even sometimes to herself, Isadora decided
to use a pic wearing purple on her own "Bluestocking" page.
.
To be reviewed:
Women's Rites, Women's Mysteries by Ruth Barrett
Advancing the Witches' Craft by Lord Foxglove
A Witch's Grimoire by Judy Ann Nock
Pagan Every Day by Barbara Ardinger
Dark Shadows: The Salem Branch by Lara Parker
Godless by Ann Coulter
Creating Circles and Ceremonies by Oberon Zell-Ravenheart & Morning-Glory Zell-Ravenheart
Witch Way to Murder and other "Ophelia and Abby" murder mysteries by Iowa author Shirley Damsgaard
and more!
Back to From the Lady's Pen
Lost in the Lady's Labyrinthine Lair? Visit the Site Map!
©2002-2012 Photos and graphics are the property of Lady Isadora and may not be used without her permission. All Rights Reserved. Site by Unicorn Design.